BONRXIN BCB-M600 is an air purification processor for odor treatment, with good dust filtration and odor purification effect. It adopts multi-layer filter device, 0.3μm PP filter core and activated carbon filter core. It can effectively filter and intercept dust pollution particles above 0.3μm, and the filtration purification rate reaches 99.7%. A large number of activated carbon filter cores can quickly absorb common toxic and harmful gases such as benzenes, ketones, alcohols, alkanes and other mixed organic waste gases. The clean air treated by the purification equipment can be directly discharged indoors. This product is more flexible to use, and has a variety of filter options. Different filter cores can be used to achieve different treatment effects depending on the environment.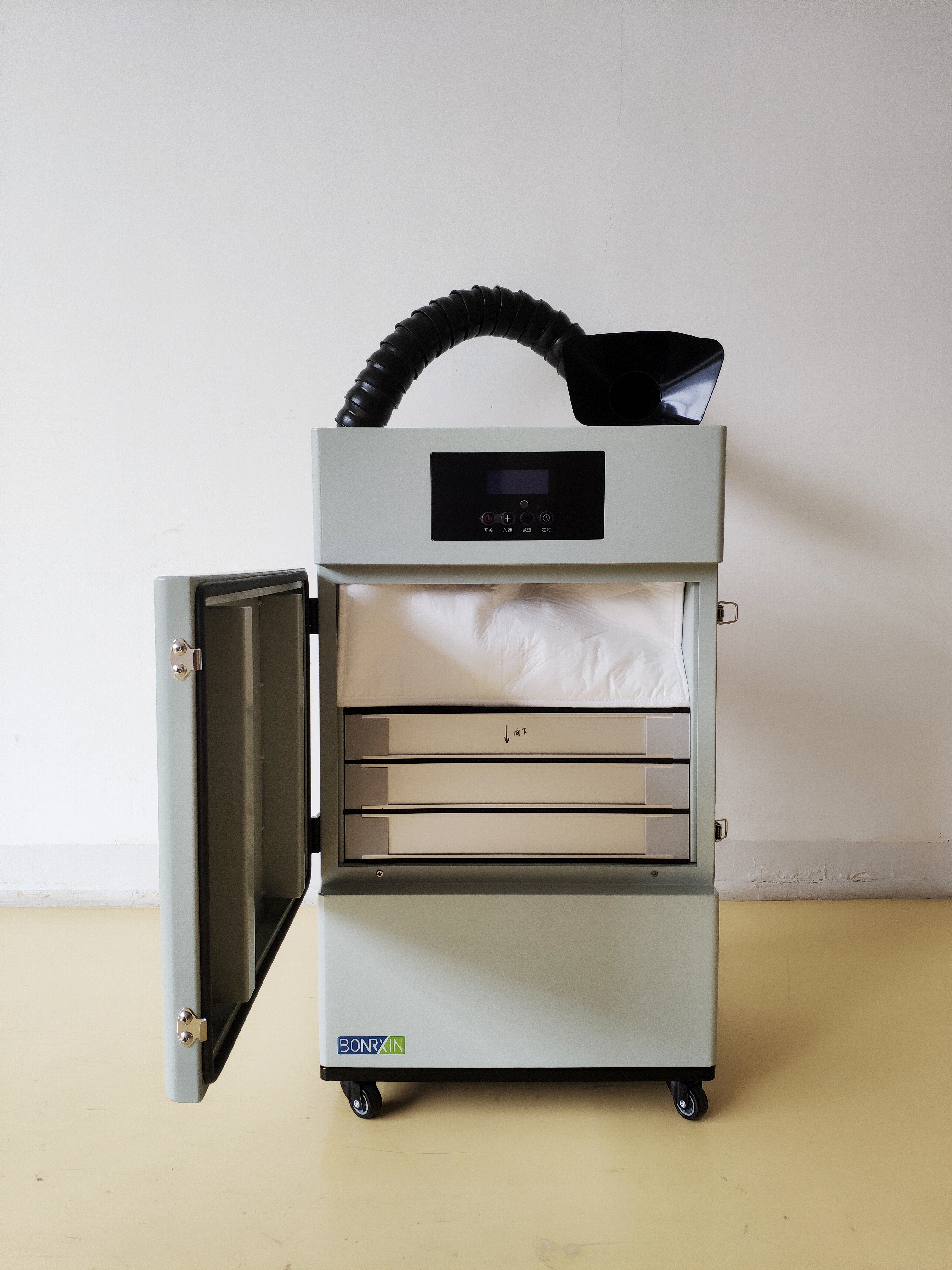 Advantages of the BONRXIN BCB-M600 laser machine purifier equipment
1, centrifugal fan
The brushless DC motor centrifugal fan has a service life of up to 40,000 hours without high maintenance reliability. It has low operating noise, high speed, high wind pressure and high performance.
2, LCD
The microcomputer liquid crystal display adopts programmable single-chip microcomputer software to realize digital control, brief introduction of operation interface, and operation parameters at a glance. Automatically detect the working state of the fan such as when the pipe is blocked, and automatically alarm when the filter is saturated. Low pressure control greatly improves safety.
3, multi-layer filtration system
This product uses a total of three filters, which are 5μm dust bag for dust filtration, 0.3μm imported PP filter, and activated carbon filter. It is filtered layer by layer according to the filtration precision to achieve complete filtration of dust above 0.3μm. Finally, it is filtered by high-efficiency activated carbon to carry out the last toxic and harmful gas adsorption on the dust above 0.3μm to achieve the final clean air discharge.
4, dust bag
This product uses a large-capacity dust bag, a total of 6 layers. It can filter more than 5μm of dust and accommodate a large number of dust particles. When the dust collection reaches a certain amount, it can be taken out and cleaned up and then used again. This is convenient and simple, saving time and effort.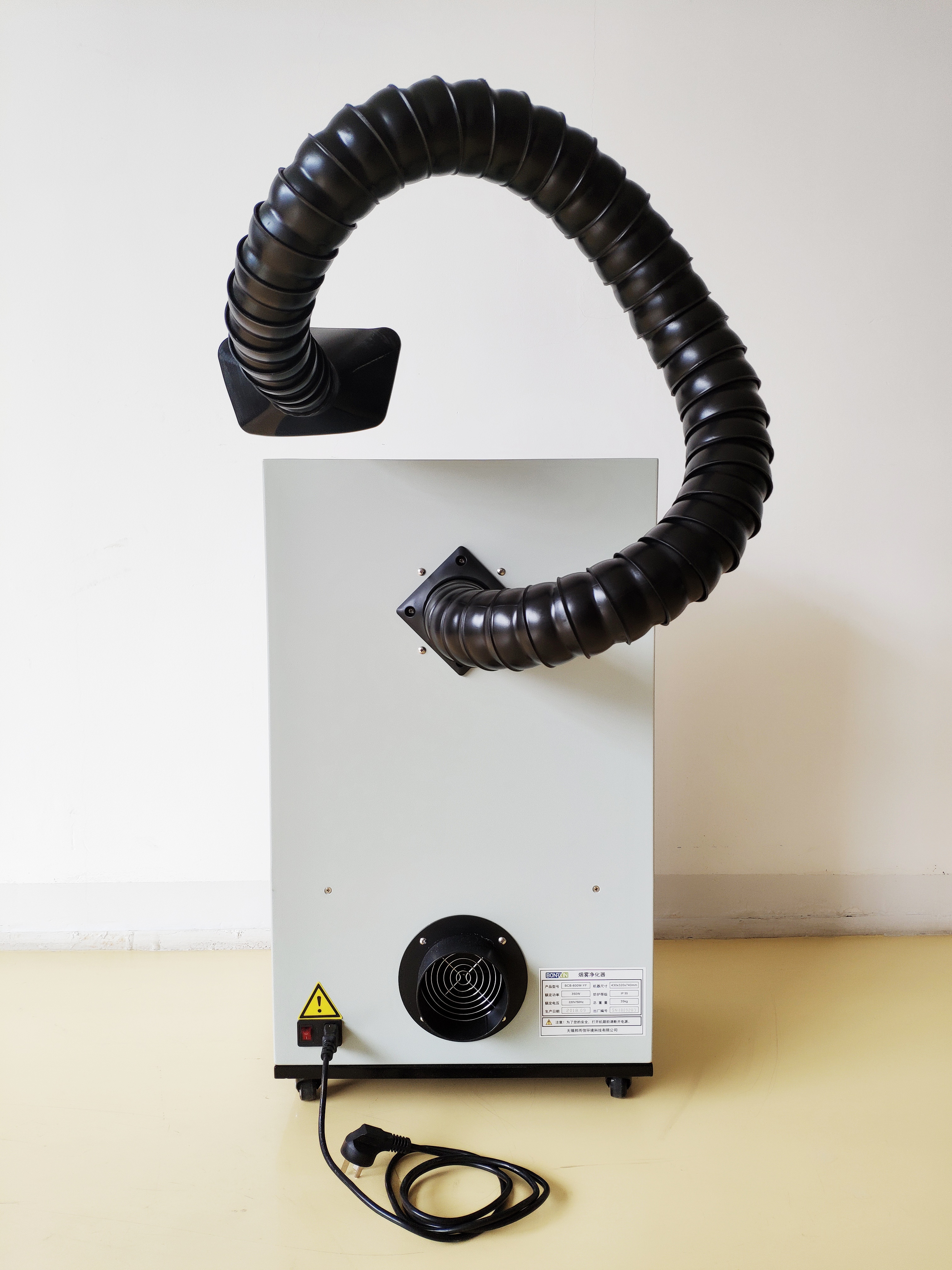 Recommendations for Laser Machine Smoke Purifier Consumables Life Cycle
Filter bag: 1-3 months
PP filter: 1-3 months
Activated carbon filter: 3-6 months
Note: Due to the different pollution levels in the place of use, the specific replacement cycle is subject to actual conditions.
Part of the Parameters of the BONRXIN BCB-M600 smoke purifier
Machine model: BCB-600W-YF
Input voltage: AC220V/50Hz
Rated power: 350W
Handling air volume: 612m3/h
Static pressure: 1050 Pa
Speed: 4800rpm
Intake and exhaust interface size: φ50mm/φ100mm
Body size: 400 x 320 x 740 (mm)
Machine net weight: 35kg