BCA-S500 Pro Laser Marking Smoke Removal Processor is a new product released in 2019. This product adopts a higher-level filtration and purification system. The purification efficiency is much higher than BCA-S500, and the smoke and burnt odor produced during marking in the closed workshop can be purified to meet the customer's purification needs. In the fields of industrial marking, welding and toxic and harmful gases, the use of multi-stage filtration system, which can achieve high-quality purification effect of toxic and harmful fumes and protect the health of employees, is more targeted than the traditional filter cartridge.
Application Range of Laser Smoke (Haze) Processor
BONRXIN BCA-S500 Pro Laser Marking Deodorization and Smoke Removal Processor can effectively absorb and filter smoke and dust produced in welding, laser marking, laser engraving and other processing processes, while adsorbing and filtering toxic and harmful gases and dust, preventing environmental pollution and human harm. The main application industries are those that use laser processing and have high environmental requirements, such as metal parts processing plants, electrical manufacturing, food, medical industry and so on.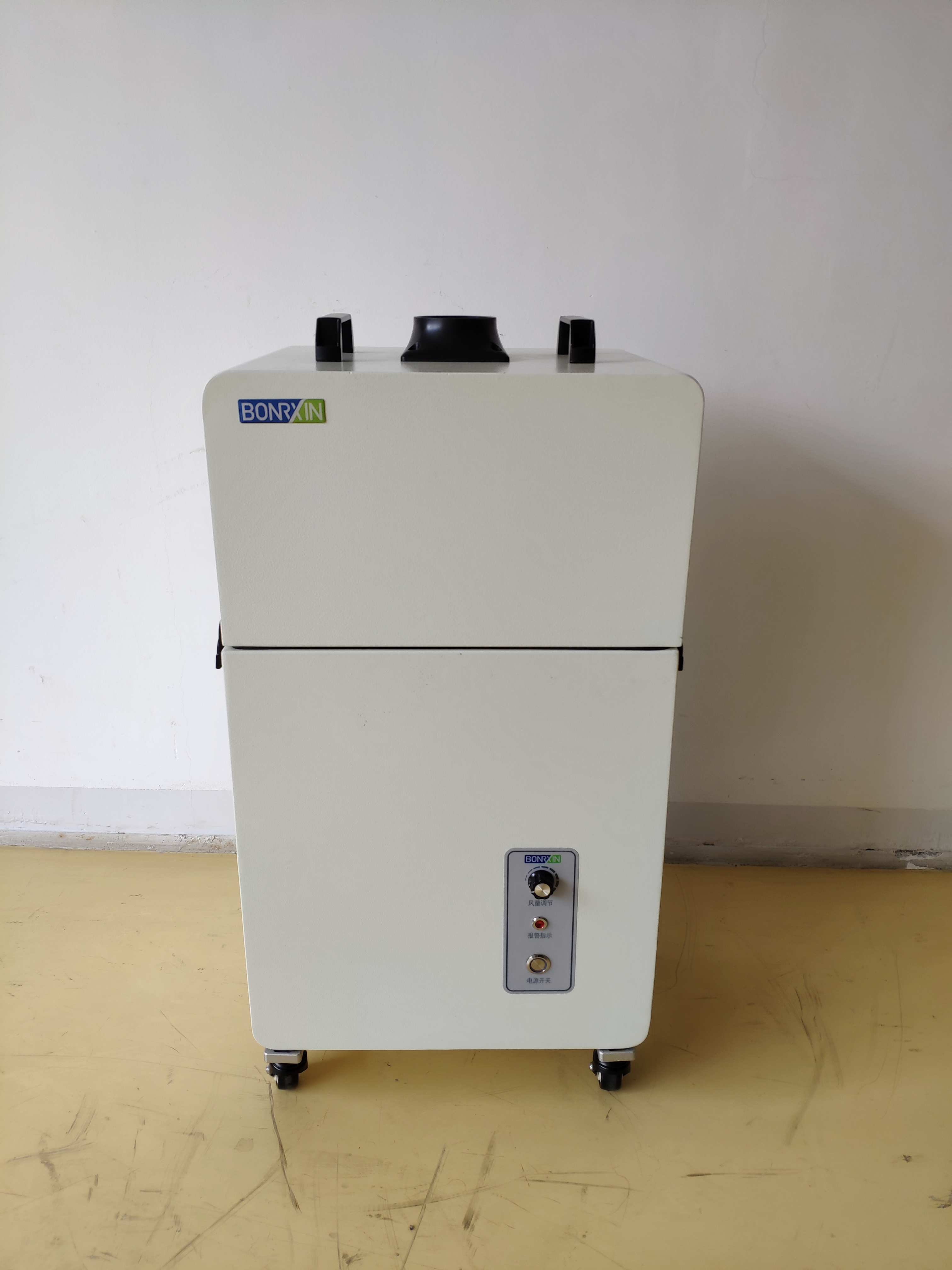 Advantages of BCA-S500 Pro Laser Marking Smoke Processor
1.The equipment is easy to operate, and the casters are set intimately, so the movement is more flexible;
2.The overall fuselage size design is larger than BCA-S500, and the fuselage dust storage capacity is increased;
3.The upper bag filter adopts high-level filter, which can effectively block large particles of smoke and dust and further improve the effect of primary filtration;
4.The fully upgraded lower combined filter uses high-grade HEPA and high-efficiency activated carbon to ensure high-efficiency odor purification effect;
5.The smoke triple filtration design ensures the removal of harmful substances in smoke and protects the safety of employees;
6. The 500 W high speed fan has stable performance, low noise, strong suction and higher air flow rate.
Appreciation of Laser Smoke (Haze) Processor Details
Combination of mesh
A new and upgraded high efficiency filter can effectively remove the smell of smoke, coke and fine dust
Castor
The design of caster is added to facilitate the movement and positioning of equipment
Lock
Lock design, close to each other, easy to clean and replace filter element
The control panel
The control panel is easy to understand and can be mastered at any time
Some Parameters of BCA-S500 Pro Laser Marking Deodorization and Smoke Processor
Machine Size: 475 * 605 * 860 (mm)
Rated voltage: 220V/50Hz
Rated power: 500W
Speed: 9000 rpm
Air handling capacity: 500m3/h
Static pressure: 2000 Pa
Filtration accuracy: 0.3 micron
Slub tube diameter 65/50mm optional
Total weight: 40KG